We realize not everyone cares about the whole "About Us" part of a business (most are honestly boring!) However,  we try to take a different approach…sure it'll be  informative and even a bit entertaining (even if I say so myself lol), BUT, if you'll bear with us, I think you'll enjoy learning about the team that's dedicated to the craftsmanship of car cosmetics… how we got started and why it's so important to us.
Windows and Wheels - I still remember lying on the living room floor while my sister/partner (Daniela) and I were going back and forth on what we should call our business. At the time, we did mobile detailing (the good ole turtle wax and a bucket of soapy water days!) …and washed residential house windows - thus the name "Windows and Wheels" was settled upon. Little did we know how much the "Wheels" part of what we did would take off over the next several years.
At the time, we were teenagers, 100% of our client base was thanks to our mom, who'd carved out her own housekeeping business and had a number of clients in Leisure World, a retirement community in Mesa. When she bought her first "new to her" car (a used 96' Ford Taurus), we immediately fell in love with keeping it clean for her. We didn't have $ for our own car, but we sure loved keeping hers clean - and eventually some of her retiree clients noticed and asked if we'd mind doing the same for theirs.
When I say we had humble beginnings, we seriously had humble beginnings. Working mobile in 115+ degree summers on hot pavement for wages that (we later figured out) were below minimum wage…this was truly a craft of passion for us. We were (barely) funding a hobby that we loved. 15 year old minivans and old trucks that hadn't been even washed in 10 years were what we called "just another day" lol.
Eventually, basic wash and wax jobs started turning into paint correction and ceramic coating jobs. I was crazy enough to buy our first "buffer" (It's called a polisher damn it!) and boy was it all downhill from there…
Our reputation of being known as fanatics when it came to these services grew all by word of mouth (we didn't have the $ for paid advertising). Fortunately, we were smart enough (or lucky enough) to start taking pictures of our work…the befores…the grueling "during" shots…and the glorious after pictures.
I'd post write up's (similar to what you're reading right now actually!)  up on free detailing forums like Autogeekonline.com or MeguiarsOnline.com and even in a couple local car group forums that were kind enough to allow us to post. Here's a couple of the first ones I ever made:

https://www.autogeekonline.net/forum/show-n-shine/28850-huge-suburban-turn-around-lots-pics.html?highlight=

https://www.autogeekonline.net/forum/show-n-shine/59801-2006-monterey-red-corvette-restoration-all-started-scratch.html?highlight=
Over time, even other leading figures in our industry started to take note that…we were a little crazy about what we did and began reaching out to us. I still remember when the head moderator of Meguiars Online, Michael Stoops (now their lead international trainer) reached out to us to invite us to join him at the Barrett Jackson auction back in 2013. This was one of the first steps we took to really breaking into our industry as a whole (and we're still happy to call Mike a friend to this day).
[Pictured below Michael Stoops, Daniela, myself and daughter Kamila…her mom Moshay was kind enough to take the picture]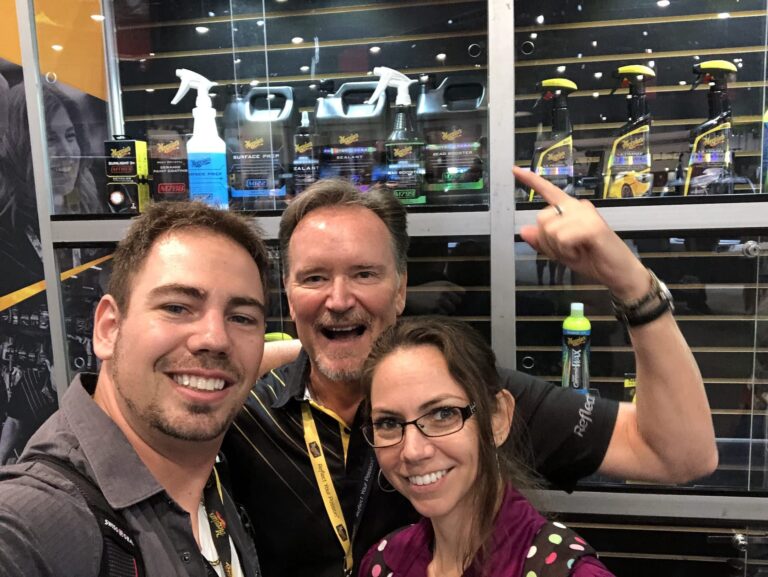 We had no idea, but in the next 18 months, things would take a huge shift for us. We'd started doing these insane 40 hour paint corrections and ceramic coating at home. This led to someone (we still don't know who, even to this day), reporting us to the town of Gilbert - who informed us we were not allowed to run that type of business from our home (even though it was 1 car at a time, inside our garage, during normal business hours…I still argue the validity of this!) BUT, this was most certainly a blessing in disguise.
In summer of 2015, our dream finally came true, by moving into our first commercial location and the overhead …the overhead was real lol! 
To most, it probably looked like a dimly lit, dirty, unfinished cave….but turning rags into riches is what we've always been good at - and that's exactly the approach we took here.
We had a van to haul lumber and drywall, we had our dad willing to drive 3-4 hours one way to come help us with some demo and construction a couple of weekends (by help I mean he led the charge in helping us put together our ideas we had in our head but not on paper…and we followed his lead lol) and the help of my and Dani's godfather Turk and my girlfriend Shay…we were all in on building this place out to be the dream center for car care we'd always imagined.
Have you ever painted CINDER BLOCK walls? Yeah, me either…and 4 layers of paint on 24' high ceilings later, I'm confident I never want to again! Racedeck flooring, knocking down walls (my g/fs 3rd degree black belt skills came in handy for that), lights bright enough you could literally see our shop glowing like day from ½ mile away from my sisters backyard…we were all in.
Here, we were able to develop all of our dreams and ideas into building out a beautiful, but functional, location that was all about car care. 
Now, with a fully climate controlled location that was lit up like the Las Vegas Strip - Paint protection film, window tint, chrome delete and Cosmetic paint protection film has truly made us the One Stop Shop of the valley for all things related to cosmetics, making (and keeping) your ride beautiful...and making for some pretty sweet finished pictures as well.
Over the years we've built truly an amazing team (Read more about them here…go on…do it! They're going to be making your car beautiful, so you might as well!). I refer to us as cosmetic craftsmen. No one here is here just to make a paycheck. 
Quite the contrary, we have team members that have walked away from 6 figure jobs, others that have an abundance of potential and possibilities in other fields or in the case of my sis and myself, could be doing what we love for someone else - but to this day, we love the journey, the relationships, the crazy difficult projects and sometimes seemingly impossible tasks we need to complete …and yet as a team we continue to pull together and make magic happen.
Now you'll find other companies that offer PPF, Tint and coatings in one spot - you'll probably even find some that offer high end products like we do - but I guarantee you what you won't find is a combo of those things with the unbreakable dedication to delivering the absolute best experience start to finish. Our entire team is dedicated to the W&W vision that began over two decades ago and we strive to improve on it every day…with every person we deal with.
From the first time you call or email us, to the first time you walk through our doors, to the day when we hand you your keys back and you can't even believe its the same car you dropped off with us, to when we make sure you know how to best care for what you've paid for so that you get as long of a lifespan and as much enjoyment out of it as possible - we will never stop working to earn and truly be qualified for the trust our clients and our teammates put in us. 
NOW, if you want the technical stuff, I'll list that below 🙂 - And good on you for making it through one of my crazy write ups! That is afterall…how we got our start :).
Click here to see the rest of the team.
We'd like to say Thank You to our Mom - Michelle Amstutz - for the love, drive, faith and first cars we ever had an opportunity to lay our hands on. You're greatly missed - but forever loved.
Michelle Amstutz
10/10/53 - 11/27/21