Paint Protection Film

Gilbert, AZ
What is Paint Protection Film a.k.a "Clear Bra?"
Have you ever put a screen protector on your new phone to keep it from getting cracked or chipped? 
Paint Protection Film (PPF) / Clear Bra is very similar, except instead, it protects your paint from rocks and road debris  that are being hurled at your car while you're driving 65mph (Ok let's be real, with Az drivers, it's more like 90mph!)
Windows And Wheels offers breakthrough technology for paint protection applications. The features and benefits of our auto paint protection film at our Gilbert, Arizona, location include:
FEATURES
Invisible Invisible protection from damage caused by rocks, salt, insects, and other road debris (tire treads anyone?)

A proprietary, self-healing top-coat formulation that is scratch- and crack-resistant with a high-gloss finish (

Superior optical clarity

Ten-year Manufacturer's Warranty

Contaminants like bug splatter, bird droppings, sap, and road tar wipe off this super-slick surface with a cloth, while scuffs and light scratches in the surface of the film disappear within minutes in the heat of the sun — leaving your car pristine and the protective film like new.​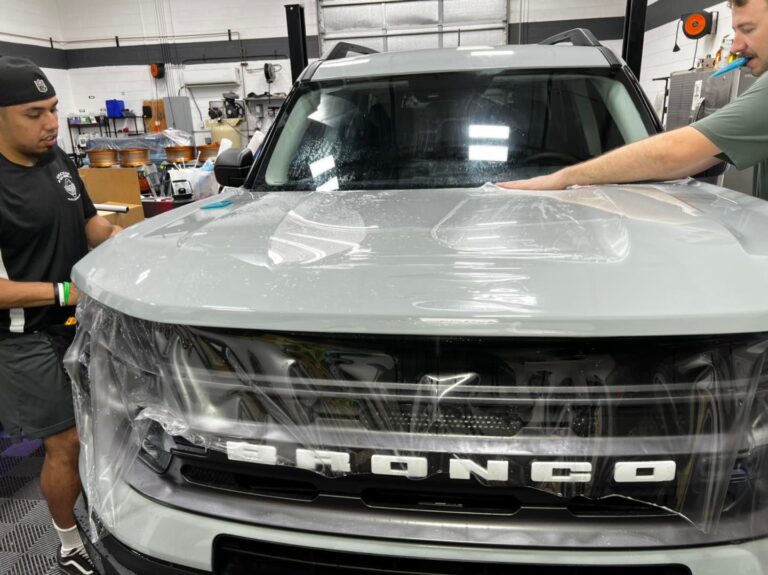 What is "Cosmetic" Paint Protection Film?
Have you ever seen a vinyl wrapped car - or a "color change" wrap?
Flexishields Cosmetic Paint Protection film is similar in some ways, but better in others.
Traditional Vinyl color change wraps have one big hang up in Az - and that is they have a pretty short life span (typically around 2-2.5 years) due to our extreme heat.
Flexishield's Cosmetic Paint Protection film however, not only has a longer lifespan (5 year warranty), but it is is also 2-3x thicker than vinyl. That means you'll get a great, custom new look, all while protecting your factory paint underneath.
Learn More about Flexishields Cosmetic PPF and the advantages vs disadvantages compared to vinyl wrap.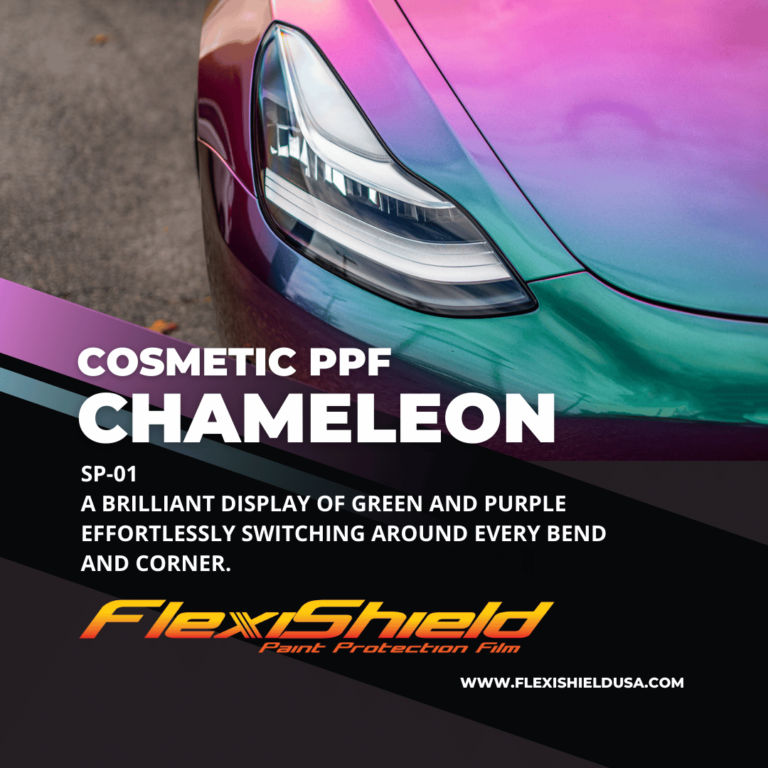 FlexiShield Paint Protection Films
FlexiShield Paint Protection products are self-healing and heat-curable because of a flexible component in the film, thermoplastic polyurethane (TPU). This class of films has many chemically enhanced properties including elasticity, transparency, stain and abrasion resistance. A combination of hard and soft co-polymers reacts to rebind and retain their shape causing these PPF films to reseal and heal themselves. See how our services for auto paint protection film in Gilbert, Arizona, can enhance the look and feel of your vehicle and provide long-term results.
FEATURES:
SELF-HEALING COATING: The ability to heal is an advanced feature inside the film's coating called thermoplastic polyurethane (TPU), a flexible thermoplastic layer that can self-heal once damage occurs. Slight abrasions, scratches or outdoor hazards can be easily averted with these time-tested products.
IMPROVED GLOSS:As light passes through the film it illuminates the paint color giving it a shiny glazed appearance. Silicone elements in the substrate also enhance the original paint producing a smooth high-gloss finish.
STAIN RESISTANCE: The anti-stain protection comes from polyurethane dispersion (PUD), which is a self-cross-linking technology that enhances coating properties, such as hardness, water, and solvent resistance.
Applying Clear Bra (Paint Protection) to your vehicle protects you from anything the Arizona roadways can throw at you. Feel good knowing your investment in paint protection film not only looks amazing but is protected with Windows and Wheels Clear bra Application. Looking for more information on FlexiShield Films and auto paint protection film in Gilbert, Arizona? Click Here