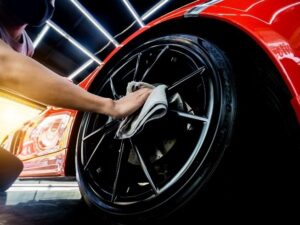 Many drivers take pride in their vehicle's performance and appearance. Fortunately, there are ample ways to clean and detail your ride that contribute to its durability. In addition to providing high-grade auto services, Windows & Wheels Auto Detailing offers an array of auto detailing tips from a car detailing expert.
Window Cleaning
Unkempt windows are not only unsightly, but they can also reduce driver visibility. Windows are some of the most evident aspects of care on a vehicle. If you routinely treat your windows, be mindful of a few auto detailing tips from a car detailing expert for an optimal window cleaning outcome.
Don't Miss the Top
A simple and effective way to improve your windows' cleanliness is to clean the very top. Once you are about done washing your vehicle, wind its windows down and wipe off the top section.
Often, product and dirt build atop the window, causing unfavorable streaking. Take a moment to wipe this section down to rid your windows of excess debris that would otherwise leave your car looking unclean.
Dry Both Ways
Window streaks are inconvenient and cause disruptive glare for the driver. One way to avoid creating streaks while tending to your windows is to dry their interior in the opposite direction of the exterior.
When you dry your windows in separate directions, it becomes clear which side the streak problem is on. This way, you can tackle the streak issue while washing your vehicle instead of finding out about the tricky glare when you are on the road.
Shampoo Your Car Biweekly
Many drivers prioritize their car's paint job condition. Maintaining the quality of your vehicle's paint can increase your car's longevity and performance while also enhancing its appearance. To keep the excellence of your car's paint, shampoo it biweekly.
Wash your car every two weeks to remove unwanted debris buildup. Allowing dirt and product to sit on your vehicle's paint can lead to unnecessary abrasions and rust. Follow your thorough car washes with a comprehensive waxing.
Applying Wax
Wax is a reliable and popular auto paint protectant. When you apply wax to your vehicle, there are numerous considerations to remember. Keep the following in mind when applying wax to your vehicle:
You should apply wax after you have treated your vehicle's trim
Utilize a power buffer to apply wax, but avoid removing it with one
Wax your car once every three months to best protect its paint
Invest
Quality products and tools are essential to the effectiveness of your car detailing. It pays to invest in top-shelf equipment or to opt for a reliable detailing provider. Research products recommended for your car's model to ensure you are using the ideal detailing equipment.
Supply your vehicle with the best car detailing in Gilbert, AZ, by referring to Windows & Wheels Auto Detailing. We have detailing services for every vehicle make and model to cater to a broader selection of rides. Schedule a consultation today to learn how our auto professionals can be of service to you and your treasured vehicle.